BIS Registration for Amplifiers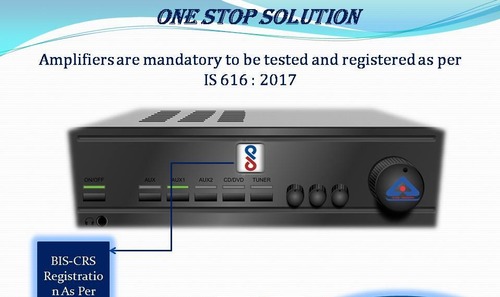 BIS Registration for Amplifiers
Price And Quantity
Square Centimeter/Square Centimeters

20000 INR
Service Description
Process of BIS Registration for amplifiers for manufacturing organization in abroad includes:
In case any applicant organization belonging to abroad does not possess any Indian branch or liaison officer, needs to hire an authorized Indian representative ( AIR). The AIR should be chosen on below mentioned criteria
If the applicant manufacturing organization has any Indian branch or liaison officer, then the liaison personnel or branch can be the AIR.
In case the organization does not possess any Indian branch or if it has no liaison officer, but has registered user or proprietor in India using trademark or brand name, then the owner of that trademark or brand can be AIR.
In case the manufacturing company neither has any liaison officer, nor have any branch in India and also if it has no registered user/proprietor of the trademark of brand, then any other person can be the AIR.
.
For Domestic Manufacturers:
The manufacturing organization of India can apply for BIS registration without the need of AIR.
STEPS INVOLVED IN BIS REGISTRATION PROCEDURE
Lab testing facility for getting BIS approbation
The application needs to be submitted through online.
The applicant can also submit hardcopy of application offline.
Verification of submitted application and documents by BIS personnel
Approval of license
DOCUMENTS REQUIRED FOR BIS REGISTRATION FOR AMPLIFIERS
Duly filled CCL/CDF form
Appropriately filled BIS form
Manufacturing license in local and English languages
Scope of business license mentioned both in local language and also in English version
ISO certification
All the necessary details of Marking Label on product
In case the signatory personnel is not the head of manufacturing organization, then submission of authorization letter is required.
Certification of Trade Mark
Authorization letter of Trade Mark in case the Trade Mark belongs to any other organization
Registration proof of being Authorized Indian representative company (applicable for manufacturing organization of abroad)
Authorized signatory or Authorized Indian Representative photo ID`
User manual/ technical specification sheet of products
POINTS NEEDS TO BE CONSIDERED TO GET BIS CERTIFICATE
The applicant should opt for a reliable BIS agent or testing organization in case he/she no prior experience regarding BIS registration or if the applicant does not have any guidance regarding this.
The laboratory where the applicant organization is planning to test its products should possess the authorization for testing. This laboratory should not be in a process of auditing at the time of testing. The reason is, in case the testing laboratory is being audited, then its testing authorization will not be given importance until the completion of its auditing.
Prior to dispatching of product sample, the applicant organization should check the entire shipment procedure to make sure about timely delivery of sample to the testing laboratory.
The applicant needs to prepare the documents on time to avoid any delay of its submission. There are several documents where signatures of brand owner, manufacturer and Indian Representatives are needed. Moreover, these documents require Notarization by manufacturing company and these needs to be stamped by Indian representatives and brand owner as well. If the organization is unable to comprehend the implied meaning of documentation rules, then chances are there that the original copies of documents may be sent to India to get these countersigned to prove their originality.
Accuracy of CDF needs to be verified and descriptions of the list of critical components need to be mentioned in details.
It needs to be kept in mind that the product test report becomes invalid after 3 months of the issue. If BIS documents submission is not done within that 3 months period, then the applicant has to start the entire procedure again along with new testing samples.
To avoid any difficulty, the BIS documentations should be prepared on time and hard copies need to delivered to India prior to completion of testing. The applicant should request the BIS certification agency to finish address verification procedure within 7 days prior to completion of product testing.
BIS usually requires around 2 weeks to either authorize the registration or to go for additional requests. The applicant should be prepared for sending certification requests for repeated times and delay associated with certificate approval. The delay may extend to 1 month to 2 months which is common in such situation.